Looking for Parent Paperwork?
We are grateful to St. Paul's Lutheran Church for believing in our vision and providing space to our program! Find us at 1200 W. Cornwallis Road, Durham, NC 27705
Wildflower Cottage is a full-time early childhood education program. We are open:
Monday through Friday
7:30 a.m. to 5:30 p.m.
12 months per year, excluding closings as listed on our Program Calendar​
Our hosting church, St. Paul's Lutheran, has a couple of lovely, morning-only programs for preschoolers. Check out the St. Paul's Preschool and Parents' Morning Out website for more information.
St. Paul's Lutheran Church has graciously provided space for our program.
​Our address is 1200 West Cornwallis Road, Durham NC 27705.
One of our strongest assets is our cozy, intimate setting.
Our toddler classroom has 12 children (1 year olds and young 2s) and 3 full-time teachers.
Our middler classroom has 14 children (2.5 year olds and young 3s), 2 full-time teachers, and a part-time 3rd teacher for additional support.
Our preschooler classroom has 18-20 children (3-5 years), 2 full-time teachers, and a part-time 3rd teacher for additional support 
Classrooms are also actively supported by the Executive Director, the Curriculum Specialist, and several additional teachers who provide ratio support and coverage for weekly team meetings and daily teacher planning.  
Tuition rates for the 2020-2021 year are as follows:
"Dandelion" Preschoolers' class (3.5-5 years old)

Entering Kindergarten in 2021 = $1350/month
Entering Kindergarten in 2022 = $1390/month

"Clover" Middlers' class (2.5-3.5 years old) = $1390/month
"Buttercup" Toddlers' class (1-2.5 years old) = $1500/month
We are a 501 (c) 3, non-profit organization. We selected a non-profit status in order to be transparent to all stakeholders—donors, parents, and teachers. In this way, all can be assured that revenue and donations are going directly into the program's improvement. This designation also allows the creation of a lasting, community-based school for generations to come. 
Our program opened in January 2017, so we still have all of the momentum and ideals of a start-up program! 
In August 2019, we expanded our program by adding two additional classrooms.  Our new teaching staff and new families have continued to challenge us to grow.    
Wildflower Cottage has some extraordinary assets:
Cozy, intimate setting (warm, natural light and bare feet most of the day!)
Curriculum inspired by the philosophies of Reggio Emilia, Italy
Natural play materials: wood, cotton, metals, nature collections, etc. (very little plastic)
~4 acres of forest "magic" (trails, climbing, creek exploration, and bamboo forts)
Neighborhood connections and friendships with our community
We are in the process of coordinating times for special senior adult volunteers to read, garden, picnic, woodwork, bake, play instruments, participate in music classes, and puppet shows, etc. Read more about our plans for intergenerational experiences here.
Helpful Resources
We have discovered some helpful websites for parents. Wildflower Cottage does not maintain these websites, so we cannot be sure that all content is subject to our standards at all times. Please browse with care.
Health
Parenting
Opportunities to Volunteer with Children
(Whether you have 5 minutes or 5 hours!)
Information about Early Learning, Child Care, and Public Instruction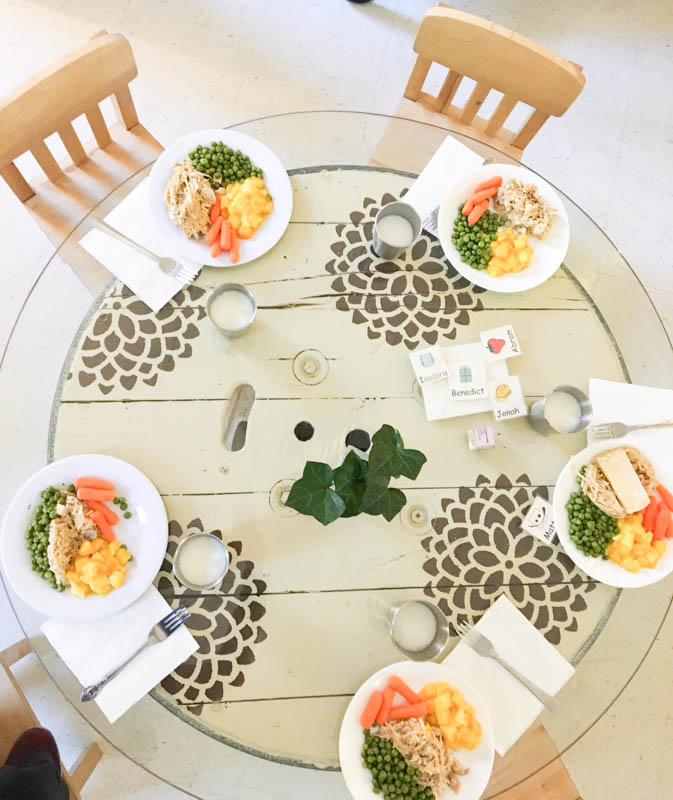 What if lunchtime could be more than a meal?
Mealtimes are some of our favorite parts of each day! The children gather around the table, eagerly anticipating what is to come. These are some of the few times when busy bodies are still. There is nearly a meditative quality as the children notice the collection of foods, the colors, the textures, and the different temperatures and tastes. The pleasure of sharing food with others is powerful! It fosters community and belonging, supports emotional health, and strengthens relationships. Meals reflect our values, our priorities, our culture, and our heritage.
We are honored to have the role of helping children develop preferences for foods that are high in nutrition. Food does not have to be fancy for children to eat it. In fact, they usually prefer simpler foods. Although children will have natural food preferences, it is important to continue offering new foods. They may need to see, smell, and touch a new food ten times before actually choosing to eat it.
​
As part of our nutrition experiences, we discuss farming, packaging, recycling, waste disposal, and composting. Although it may not yet be appropriate to involve children in complicated political and economic issues, we are able to teach respect for our food and our resources.
From "Healthy Eating for Young Children" by Bobbie Rose and "Seeing Children's Pleasure with Food" by Deb Curtis
Wildflower Cottage provides a rotating menu of healthy foods, including 2 snacks and a catered, hot lunch.